Opening Soon: Ripcord
A sunny room on an upper floor is prime real estate in the Bristol Place Senior Living Facility, so when the cantankerous Abby is forced to share her quarters with new-arrival Marilyn, she has no choice but to get rid of the infuriatingly chipper woman by any means necessary. A seemingly harmless bet between the old women quickly escalates into a dangerous game of one-upmanship that reveals not just the tenacity of these worthy opponents, but also deeper truths that each would rather remain hidden. Ripcord is an often slapstick, always surprising comedy.
Ripcord performances are September 29 to October 14.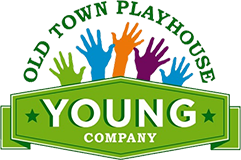 Where Creativity Meets Confidence
Young Company is the educational arm of the Old Town Playhouse and offers a wide variety of classes, workshops and productions for young people of all ages. Our class sessions are held in the fall, winter and late spring, offering a uniquely authentic theatre learning experience.

The Young Company productions, musicals, dramas and intimate studio plays provide students with the highest quality production values and professional direction and design.