Now Showing
BELLY LAUGHS AND JOY!
SpongeBob and all of Bikini Bottom face the total annihilation of their undersea world. Chaos erupts. Lives hang in the balance. And just when all hope seems lost, a most unexpected hero rises up and takes center stage. The power of optimism really can save the world! This musical is based on the beloved animated series with songs provided by a host of popular music luminaries.
The SpongeBob Musical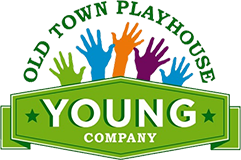 Where Creativity Meets Confidence
Young Company is the educational arm of the Old Town Playhouse and offers a wide variety of classes, workshops and productions for young people of all ages. Our class sessions are held in the fall, winter and late spring, offering a uniquely authentic theatre learning experience.

The Young Company productions, musicals, dramas and intimate studio plays provide students with the highest quality production values and professional direction and design.