Up Next - The Play That goes Wrong
EVERYTHING THAT CAN GO WRONG…DOES!
Welcome to opening night of the Cornley University Drama Society's newest production, The Murder at Haversham Manor, where things are quickly going from bad to utterly disastrous. With an unconscious leading lady, a corpse that can't play dead, and actors who trip over everything (including their lines), the accident-prone thespians battle against all odds to make it through to their final curtain call, with hilarious consequences!
More About Play That Goes Wrong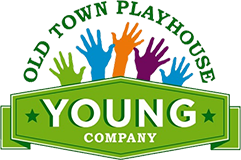 Where Creativity Meets Confidence
Young Company is the educational arm of the Old Town Playhouse and offers a wide variety of classes, workshops and productions for young people of all ages. Our class sessions are held in the fall, winter and late spring, offering a uniquely authentic theatre learning experience.

The Young Company productions, musicals, dramas and intimate studio plays provide students with the highest quality production values and professional direction and design.